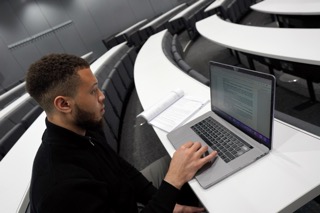 Arinze David Nwanna
Student at Imperial College (Amos Bursary)
Download Arinze's story
If I were to advise organisations on how best to support young Black males and others from under-represented backgrounds, it is to take us out of our current environments and then place us in a boot camp for two to three days.
Career
I'm currently studying for a Masters degree at Imperial College on an Amos Bursary. I have a degree in Chemical Engineering as I wanted to transition into petroleum and mining, but am now focusing on FinTech.
I still want an opportunity to transition into technology if I want to, because I have friends who are also part of the Amos Bursary who went into banking for an internship, and then went into tech for another internship and stayed in tech. So, I'm leaving the door open. At the moment I'm more into banking or private equity, but eventually I want to build up a residential real estate portfolio and then move into real estate.
I've completed a two-month intensive summer internship at JP Morgan in a raw investment banking/corporate finance role in the Technology Media Telecommunications Division, which handles transactions for companies like Spotify, within the Europe, Middle East & Africa (EMEA) region. The internship was through JP Morgan's Advancing Black Leaders Programme which provides mentors to help Black students get through the recruitment process.
The intensity was an awakening and gave me an insight into what it is really like to work in a top role – the hours you have to put in, the seriousness of the job, working with a lot of management at such a junior level. It exposes you to the kind of mentality you need to develop to really survive in the work environment. It was really helpful for me and very rewarding in terms of looking upwards and forwards towards my career.
Aspirations
So much has changed in terms of my mindset over the last two years.
Because I'm very analytical, I had wanted a role focused on programming and solving problems and which would allow me to 'speak with the data' – data analytics, machine learning, neural networks, stuff like that. My internship in corporate finance exposed me to this more business-minded approach to things, which is actually more kind of me. FinTech is the integration of both Finance and Technology and is essentially about using data analytics to solve finance problems, stock predictions, portfolio management.
I think there's a lot more diversity programmes in finance than tech. The only one I knew about in tech was Google's Bold Immersion programme. Initially I applied for roles in companies like Google and Microsoft but didn't get them. So not having the experience, not understanding the playing field, the tech recruitment process made everything a bit ambiguous. I had a good CV, good set of skills, I'm at a good university and have good grades, but I couldn't really understand what they were looking for. In finance I did.
ED&I
I saw a lot more Black people at JP Morgan than I would see in a general bank. The company is very inclusive and people at all levels in the organisation would talk about the inclusive values. That was one thing that wowed me. It was trying to solidify the gaps with initiatives such as online inclusivity courses for all staff. Every week on the Advancing Black Leaders programme there would be a session about the different roles in finance with speakers from different levels, managers, managing directors, associates.
JP Morgan partnered with RARE recruitment to try and get more Black students to apply for roles which was good. The company was also keen to improve the programme, and wanted to know how to make sure at the recruitment stage that people don't drop out and that they make it all the way through to the end.
My own feeling is that if you're good enough, they take you. If you can solve problems, no matter what skin colour you are, they will take you. Obviously, some people have different experiences, and I acknowledge that. But I haven't really experienced anything like that.
Advice
If I were to advise organisations on how best to support young Black males and others from under-represented backgrounds, it is to take us out of our current environments and then place us in a boot camp for two to three days.
This would help us to cultivate a mentality [based on the environments that we aspire to work in]. That would definitely change a person's life, far more than an open day or career event and have a long-lasting effect. That was what happened to me when I went to JP Morgan. The Advancing Black Leaders Programme was like an intensive daily programme where I engaged with people and subconsciously developed a wider mentality. If we have the mentality that we are already in the space we just need to leverage our skills.
I do believe skin colour plays a part, but I believe what affects us more than our skin colour is our mentality. I say this because I'm a mentor to quite a lot of people in this space and half of them either just have a stigma or, due to the current environment, they can't cultivate a mindset that can take them higher than their current state.
Progression
In terms of navigating these new environments, sometimes people can experience imposter syndrome. Or they find that they have to resort to code switching or adopting a different kind of mentality to operate in that environment. Yeah, I felt that very strongly. I saw a lot of people break down, especially in such an intensive role. That's why I believe that it's important to take them into a separate environment early on to allow them to just mingle at a younger age, this would be powerful. My mentality didn't fit in, and my behaviours didn't naturally fit in. But my motivation to succeed outweighed how I was feeling. You have to have a vision which allows you to stay on target and do what you're here for and kind of move on, regardless of what is going on around you. 
During my internship there were many things that I just wasn't used to, or it wasn't part of my culture, which was hard. For example, they drink a lot, and I don't drink alcohol. There might be occasions where everyone in the team would be drinking and they would say to me 'Oh, why don't you drink? I would have to navigate that, but I am strong in my faith and quite spiritually minded. Also, my line manager would set aside a soft drink, like coke and then let people to get on and do their thing. He didn't make me feel like some dude that doesn't drink.
I think these environments need more people with a similar mentality to my own. It becomes easier for someone like me to stay in these environments rather than say 'oh no, this is not for me'. Many of the people I mentor, tell me 'I'm the only Black person on the desk', 'I don't want get things wrong', 'I just don't feel welcome'. But if you can help sustain these people because you have the same mentality, then you can build them up and bring other people up and help sustain their motivation. I think that was actually one of the credits put on my report – that I had one of the highest levels of motivation on the team.