Just before the Omicron variant ruined everyone's Christmas party plans, the Black Training and Enterprise Group chose to make our 30th anniversary a time to reflect and refresh as well as celebrate.
The anniversary party held on November 30th at the Camden Arts Centre in north London, brought together over 100 present and former staff members, funders, board members, supporters and allies to toast to 30 more years.
It was also the opportunity for us to announce our new name, revealing that as of 2022 BTEG would be known as Action for Race Equality (ARE).
The night was opened with a welcome from Chief Executive Jeremy Crook.
"I never imagined when I joined NCVO as the new policy officer at BTEG 29 years ago it would be a lifelong career journey for me," he joked.
After thanking all of those who have supported him on his decades long journey, including his wife and daughters (one of whom was also in attendance), Jeremy passed the mic to ARE chair, Seema Manchanda.
As well as reflections from her own time with BTEG, Seema also took the role of interviewer, to host a discussion on the state of race equality with special guest, Reni Eddo-Lodge.
An award-winning journalist, author and podcaster Reni provoked a strong media reaction in 2018 with the publication of her debut book 'Why I'm No Longer to Talking to White People About Race'. It was a topic however that she was willing to discuss with Seema and the packed audience, as they discussed concepts including white privilege, intersectionality, stories of racism in the news cycle and the future of the fight for racial equality.
"BTEG's longevity is testament to its ability to respond, break new ground and remain consistent in bringing debate and action related to social justice, economic equity and political empowerment. What a privilege to have served BTEG and an honour to work alongside such wonderful people."

Sajid Butt
As if that didn't provide enough food for thought, more entertainment on the night was provided with a performance from another special guest, poet Shareefa Energy. The always fiery Shareefa delighted the audience with a selection of her spoken word, taken from her latest book Galaxy Walk, as well as a brand new as yet unpublished material.
But the biggest surprise of the night came with the unveiling of a portrait of Jeremy by artist and newest staff member Fleur Boya.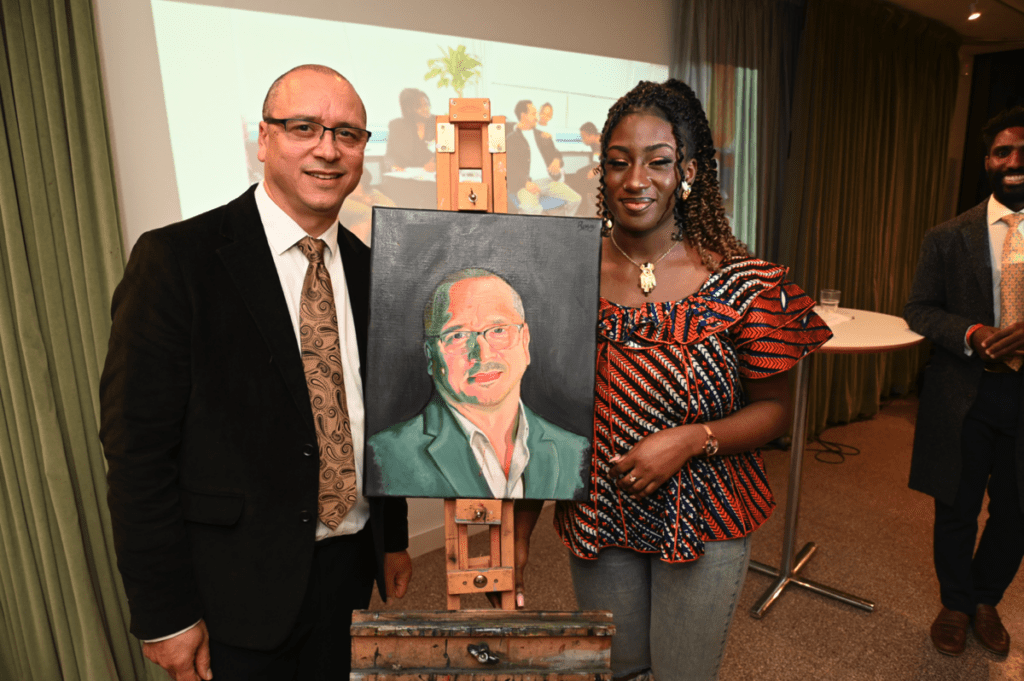 Once the formal part of the evening had concluded, guests were free to mingle and share their own BTEG memories while enjoying the buffet.