Creating fairer workplaces
Our workforces need passionate allies in Senior Leaders to create better and more equitable opportunities for young Black men.
Employers are key to the success of the Moving on Up initiative.
We are working with a range of partners and employers in Brent and Newham to prepare young Black men for quality jobs and apprenticeships in London, whilst supporting companies commit to becoming fairer employers.
We work with a core list of employers drawn from three sectors: construction, technology, and finance. The current list includes:
Lendlease
Affinity Water
Keyhaven Capital Partners
HS2
Veritas Investment
WTW
Kier
Moving on Up encourages employers considering their workplace inclusion strategies to think about:
What are you currently doing to recruit young Black men?
Are there any barriers preventing your company adopting the Mayor of London and Moving on Up's Inclusive Employers Toolkit?
What can Moving on Up do to help you overcome on these barriers?
---
Moving on Up is now delighted to be expanding this group to include employers from all sectors in the capital. If you're interested in taking bold steps to positive action within your organisations, join the Employer Champions group!
The Mayor's Inclusive Employers Toolkit
Moving on Up was commissioned by the Greater London Authority to produce the Inclusive Employers Toolkit. This is a step-by-step guide to help companies increase the recruitment, retention and progression of young Black men within their workforces.
The toolkit is for use by senior leaders and recruitment staff within companies in the construction and digital technology industries, and their suppliers. It will equip you with practical tools and examples of good practice from these sectors.
What does an
Employer Champion do?

Actively promotes the principles of inclusive recruitment practice within your organisation.


Implements and shares the Mayor of London's and Moving on Up's Inclusive Employers Toolkit. The Toolkit sets out practical actions to diversify your recruitment practices.


Takes the initiative to raise awareness of the Moving on Up and Workforce Integration Network (WIN) programmes across your supply chain, and share MoU/WIN products and data.


Encourages young Black men in your organisation to join the London Mayor's Workforce Integration Network/Moving on Up group of peer ambassadors. These individuals will inspire and encourage other young Black men to pursue careers in construction and technology sectors.


Ensures your organisation shows public support to diversify and inclusion by sharing ethnicity workforce data.
To find out more about MoU in your workplaces, contact Chief Executive, Jeremy Crook OBE
Contact Chief Executive, Jeremy Crook OBE for more deta
Being a member of the Moving on Up Employer Champions Group is a demonstration of HS2's commitment to creating tangible pathways into employment on the programme for people from local communities and diverse groups. To build the best railway in the best way while creating a sustainable legacy, we need the best talent and that includes young Black men who we want to see better represented across our workforce.

Ambrose Quarshie
MoU Employer Champion, ARE trustee
Skills Manager at HS2
our latest publication
Together with our Moving on up Ambassadors, and Collective Impact partners, our Employer Champions have produced a Top Tips Guide for online and face-to-face interviews, pooling years of experience into a handy guide for young people.
Find out more here.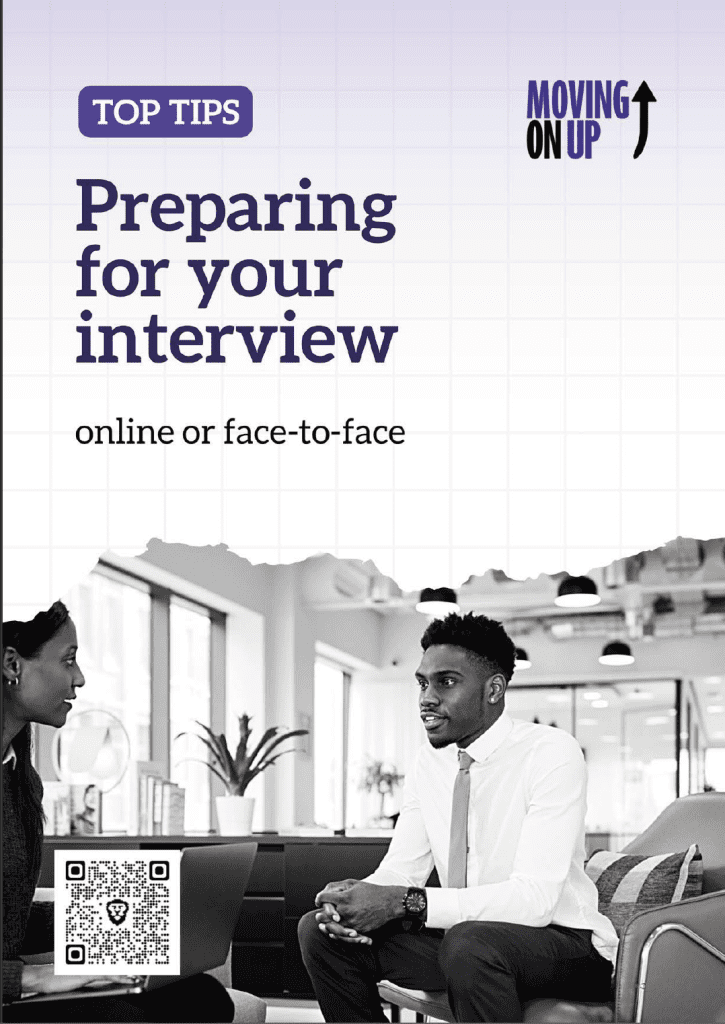 Related news…