Campaigning for change
Ten years since it first appeared, the Metropolitan Police's Gangs Matrix still remains in the shadows for many.
Those swept up by it however, feel its deep impact in every part of their daily life. But who is most impacted by the Gangs Matrix, and how?
Watch our new film.
Read our open letter to the Mayor of London
#ScrapTheMatrix.
---
What is the Matrix?
The Metropolitan Police's Gangs Violence Matrix (GVM) is a database of people in London whom the police consider to be "gang nominals" or suspects. It is described as a 'risk management tool' by the Metropolitan Police to help monitor and tackle gang-related violence.
Once on it, individuals are subjected to a series of restrictions and the denial of services such as housing, higher education, benefits and driving licenses. Some people have even been evicted from their homes as a consequence.
Origins
The Matrix was created in 2012 as part of the government's 'war on gangs' – a political response following a summer of riots in 2011. These spread through parts of England after Mark Duggan, a young mixed race man, was killed by a Met Police officer in Tottenham, London.
However, since then, researchers have stated no evidence exists to show that gangs or gang activity caused the riots. But the links between gangs, race and youth violence have become hard to shake off.
The Issues
One of the biggest concerns campaigners and researchers have with the Matrix is that it racially profiles young people from ethnic minority backgrounds, especially young Black men, without real cause.
Definitions of 'gang' have been very subjective, meaning bias and assumptions can creep into investigations and classifications. In 2018, Amnesty International found that young people, as young as 12, were on the Gangs Matrix for listening to certain kinds of music, for who they knew, or where they lived.
Most of these individuals posed little to no risk of committing any crime. Even victims of gangs violence have ended up on there, unable to get the support they need.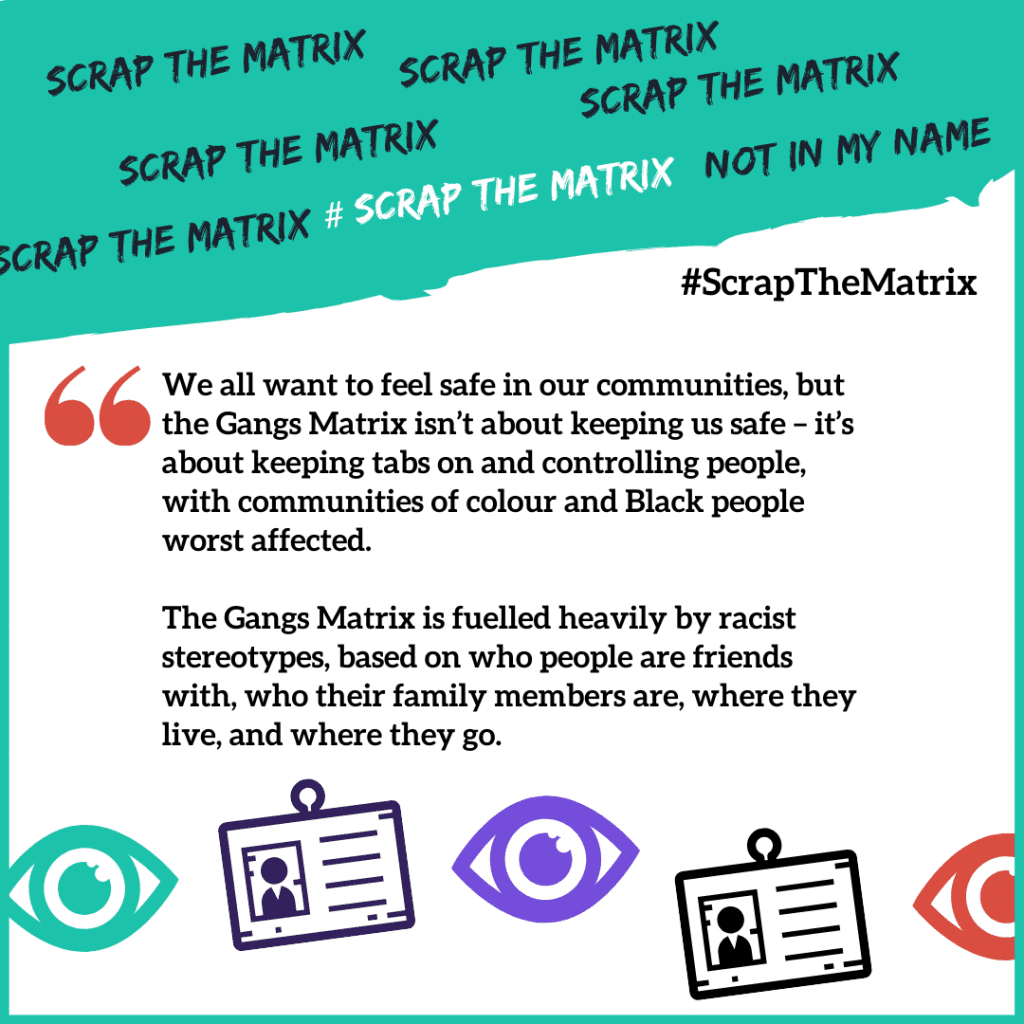 Since its creation, young people – especially young Black people – have found themselves
over-represented on the database.
Impact
The Met police use 'enforcement action' against people on the Matrix. This includes: increased stop and search, police surveillance, and parking enforcement. These measures have serious consequences.
The impact of being on the Matrix can reach far into people's lives in ways that may follow them for years. According to the Information Commissioner (2018). "Many of these enforcement actions will necessarily involve liaison and information-sharing with third party bodies and agencies… housing associations and education authorities, which has the potential to have a significant adverse impact on an individual's life."
Declared "unfit for purpose" by leading human rights organisations, ARE believes the Gangs Matrix has no place in modern policing.
Help us raise awareness of this ineffective, and discriminatory tool by sharing this page, circulating our video, and keeping young people you know and work with informed of the issues.
---
Supported by
---