We are delighted to announce six new young people have been selected to become ambassadors for our work championing better employment prospects for young Black men aged 16 – 24 in London, through our Moving on Up programme. There are currently 12 ambassadors, who were all selected due to their enthusiasm and 'can do' attitude shown towards their future goals.
Action for Race Equality met with Moving on Up's latest members, Daniel Brown, Jordan Aitcheson-Labarr, Kevin Osei, Muhammed Mucktar Jalloh, Richard Turay, and Guerin Nimi, along with longstanding ambassador, Cameron Aitcheson-Labarron, on Saturday 9th of September to introduce them to the ten-year long initiative; to meet and get to know one another, and to hear their thoughts on the final year of the programme which hosts an exciting line up of activities including a parliamentary event, an award ceremony and the launch of a brand new positive action guide for employers.
I wanted to become an ambassador because as a young Black man myself, I have felt the effects of unemployment. This programme works on lowering the unemployment rate for people like myself…I want to be able to help bridge the gap and try to make a change so that in the future, young Black men do not need to go through as many struggles as I did.

Muhammed Mucktar Jalloh
I decided to apply to be an ambassador for Moving on Up, to be a voice for my peers who often feel voiceless.

Kevin Osei
The day gave the Moving on Up team the chance to hear how young people believe we should be changing behaviours, policies and attitudes in schools, workplaces and government. The ambassadors spoke of the direct experiences of hiring bias, the lack of career mentoring opportunities and the visibility of Black role models. All were passionate about changes in policy and companies being accountable, and measurable, and keen to support Black-led initiatives that were driven by communities with knowledge of the issues, and the key to the solutions.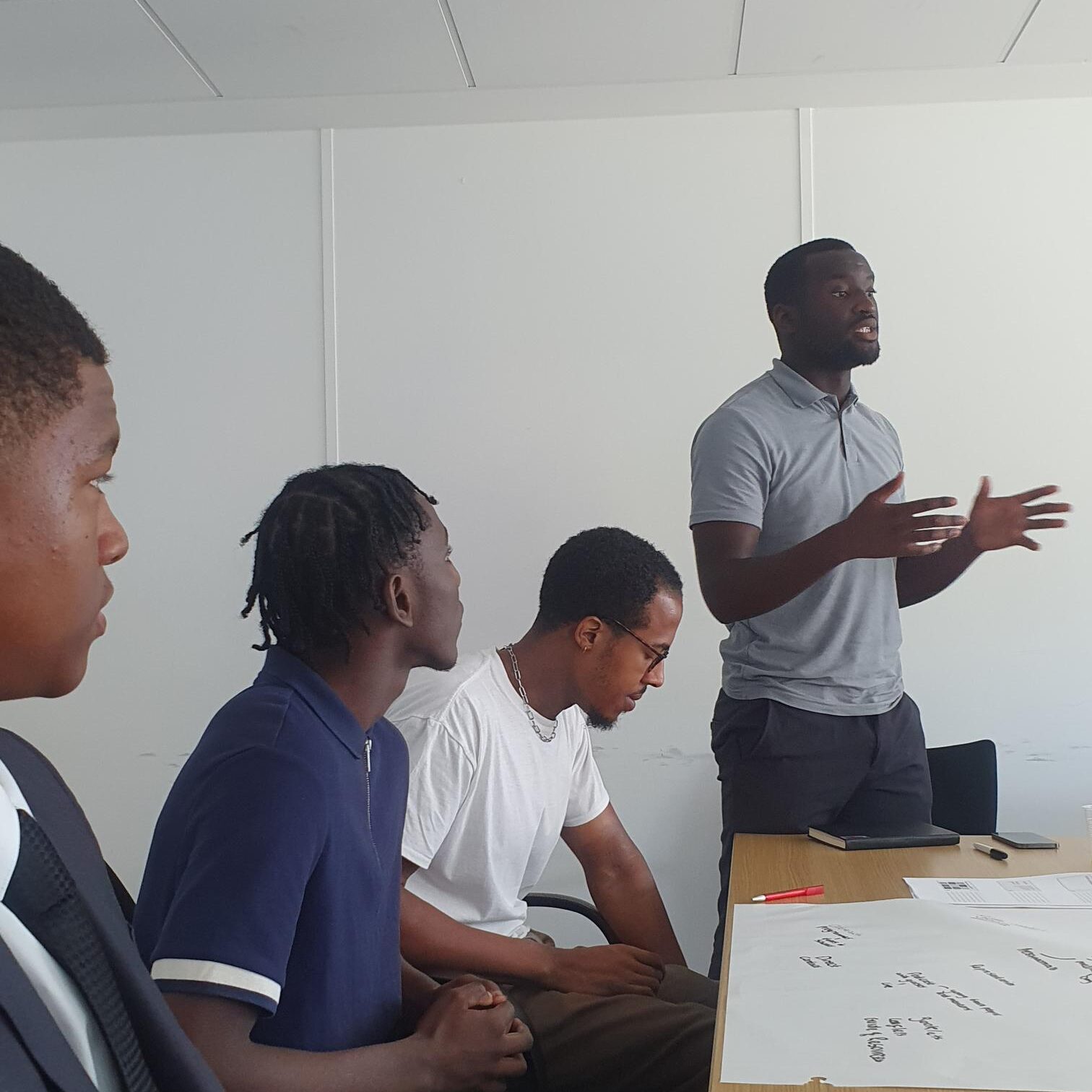 Indra Nauth, Programme Director said,
"We are delighted to have the energy and enthusiasm of these young men on Moving on Up. We are already looking ahead to how their voices and experiences can impact change for other young Black men in London, and have an exciting year planned ahead. We are appreciative of all the ambassador's time, and how they have brought their lived experiences, as well as ideas for solutions to the employment challenges impacting them, so honestly and openly to the programme."
If you'd like to find out more about Moving on Up, or have an opportunity you'd like to share with our young people, please contact us.
---
About Moving on Up's ambassadors
The Moving on Up Ambassador programme started in early 2020 to ensure young Black men have a robust voice within the programme and have wider influence in various public and business settings. All young men are passionate about helping to improve life opportunities and employment possibilities for young Black males aged 16-24. 
We also have a dedicated Employer Champions Group, who form a separate group of allies championing workplace inclusion and are keen to support more young Black men across their sectors.
To find out more about our latest work, discover our latest campaign in partnership with Blitzworks and Trust for London.